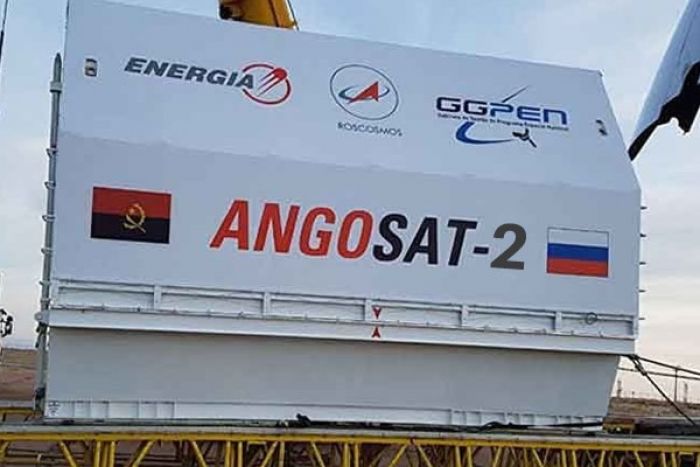 After the failure of AngoSat-1, the option of the agreement guaranteeing the construction of AngoSat-2 was triggered. The new agreement was officially signed on 23/04/2018 by the Secretary of State for Telecommunications, Mário de Oliveira and the head of the Russian delegation for the contract issue, Mikhail Bjchkov.
The AngoSat-2 is being built in France by the company Airbus, and it will cost around $ 320 million. After construction is completed, it will be relocated to Russia properly in Kazakhstan for launch into orbit.
How are the jobs currently?
According to José Carvalho da Rocha (Minister of Telecommunications and Information Technology), the construction of the Angolan satellite AngoSat-2, replacing AngoSat-1, is 50 percent and is expected to be launched into orbit by 2022, he said. recently the sector holder.
He also made a point of emphasizing that the construction is a consequence of the complementary protocol between Angola and the Russian Federation to the AngoSat-1 manufacturing contract, launched in December 2017, but later lost in space.
______________________________________
Update 1 [29/12/2019]: By Leonardo Pinheiro
Angosat-2 is not being built in France. As in the first, the satellite is of Russian construction and is being built in Russia. An important part of the satellite (the payload) is from the manufacturer Airbus and is being built in France.
Angosat-2 does not cost $ 320 million (nor did Angosat-1 cost it). The Angosat project (entire project) cost 320 million and this includes the non-operational Angosat-1 satellite. The Angosat-2 satellite will cost the Angolan state nothing for contractual reasons.
The launching site will probably be in Baikonur, Kazakhstan (not Russia).
Angosat-1 was not lost in space. The satellite is in orbit and can be located at the following site: https://www.n2yo.com/?s=430…
On this site you can find almost all satellites launched and still in orbit. It is also possible to do a little analysis on the problem of Angosat-1, which is not operational.
Finally, it is noteworthy that the 50% refers only to satellite construction. As the minister said, the whole process is not a simple task and has many factors involved.