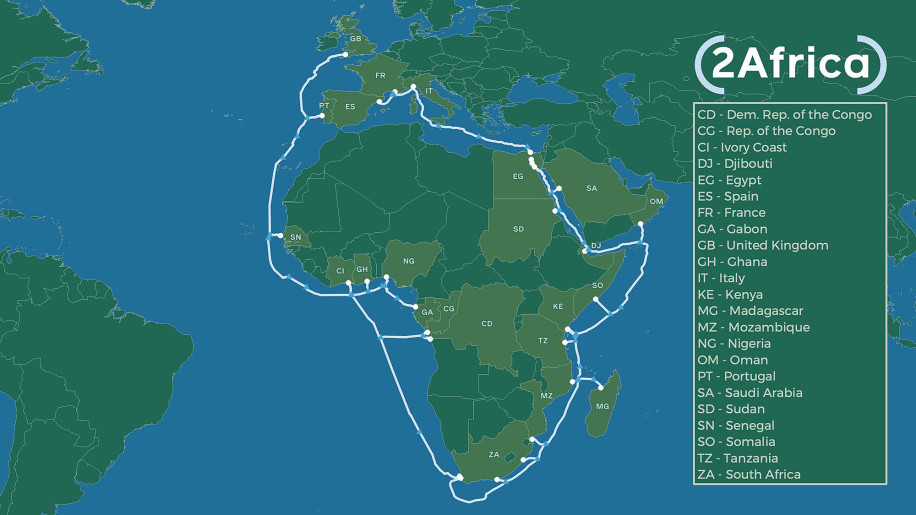 Angola currently has 3 submarine cables connected, the SAT-3 / WASC that belongs to the consortium in which Angola Telecom is part and the connection is coming from Cacuaco, we still have the BAGS and WACS from Angola Cables where the call arrives from Sangano.
Practically during the first quarter, the country had Internet problems, the cause of which were the constant cuts in the SAT-3 / WASC cable, which is practically at the end of the useful period, and WACS, which also had some problems, having SACS endured the country in that critical phase.
A new submarine cable that will cover Africa and the Middle East is under construction. Known as " Cape 2Africa ", Is a partnership between China Mobile International, Facebook , MTN GlobalConnect , Orange , STC, Telecom Egypt , Vodafone e WIOCC.
With an extension of 37.000 km, the 2Africa it is undoubtedly one of the largest submarine cable projects in the world, with a capacity of up to 180 Tbps. The cable system is expected to come on stream in 2023 or 2024, providing more than the combined total capacity of all submarine cables serving Africa today.
In countries where the cable 2Africa will land, service providers will obtain capacity at operator-neutral data centers or at open access cable landing stations in a fair and equitable manner. Participants say that this will support the healthy development of the Internet ecosystem, greatly facilitating the accessibility for businesses and consumers.
But why won't Angola have a connection to this cable?
This is an answer that only the Ministry of Telecommunications and Information Technologies (MTTI) can give us. Recently it was addressed about impact of submarine cable breakdowns in Angola, since the country has been largely affected recently, where one of the highest priority recommendations is the implementation of a new submarine cable, since the implementation of a new cable has a high cost, it would be a good opportunity for the country to be connected to the submarine cable 2Africa, and thus guarantee the stability of the Internet in Angola in the future.