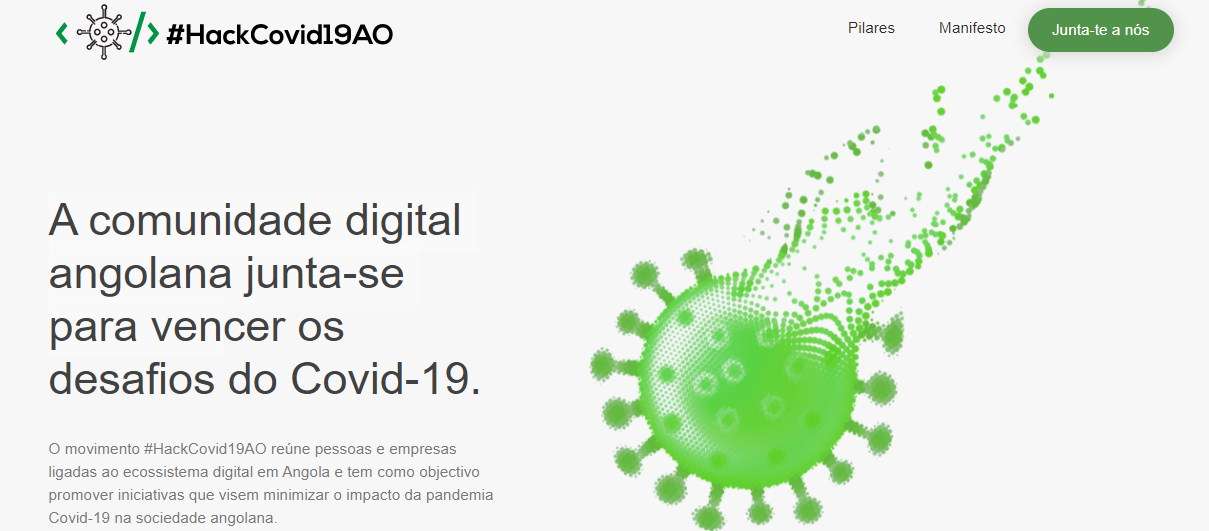 With the purpose of fostering the spirit of collaboration and innovation in the Angolan digital ecosystem, the # HackCovid19AO movement was created, focused on promoting, disseminating and supporting initiatives aimed at minimizing the impact of the COVID-19 pandemic on Angolan society.
The Movement that brings together people, startups and companies linked to the Angolan digital ecosystem, aims to encourage the development of technological and non-technological solutions that contribute to helping the Angolan population and companies in this difficult phase that we are going through. To promote and support with resources the initiatives within the Movement, the digital platform of crowdfunding (crowdfunding) Deya.
In view of the characteristics of the different initiatives, four
pillars of action:
Save and protect lives;

Support Small and Medium Enterprises;

Protect employment;

Financial and Digital Inclusion.
So far, the movement has mapped 16 initiatives, most of which are part of the Save and protect lives pillar. The initiatives already identified aim essentially to support the population with products, equipment and information to fight the virus, more specifically the production of community washbasins, the production of visors, the production of soap, the distribution of alcohol gel, as well as to convey information through digital solutions, facilitate communication between doctors and patients digitally, among others. The initiatives mapped by the movement can be briefly consulted on the platform by clicking here.
The Movement # HackCodiv19AO invites everyone who wants to join this cause, whether as volunteers, solution creators or with financial / gender resources, to visit the site and leave their contact. "We intend to identify the largest number of initiatives taking place in Angola, in order to give them visibility and thus raise a greater number of resources", says Joel Epalanga, one of the movement's spokespersons, and "We believe that there are initiatives in Very innovative Angola and an enormous capacity to create digital and non-digital solutions that in the future can pivot successful startups ", adds Vanda de Oliveira, another spokesperson for the movement.