Gamers on the African continent are determined to benefit from an innovative gaming solution to be made available to ISPs and gaming enthusiasts. Online players who access international platforms such as Sony, Xbox, RIOT, Valve, Tencent, highwinds, Blizzard and others, will benefit from improved latency of up to 50%, vastly improving the overall gaming experience.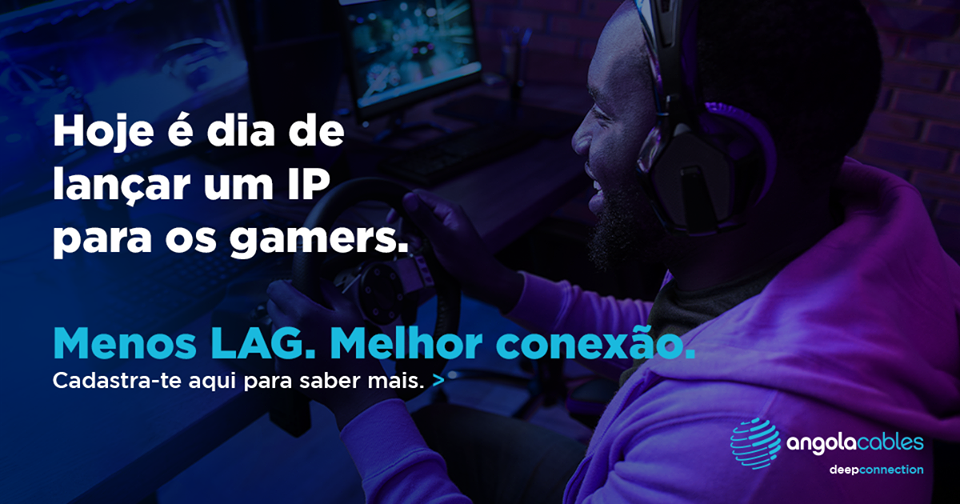 The telecommunications multinational Angola Cables today launched a product that it designed and developed called IP Gamer, the service Premium IP automatically selects the best routes between providers and game servers to the end user. When selecting these ideal routes, Gamers throughout the Southern Hemisphere will have the opportunity to compete with better quality, ping and lower latency, which will improve competitive performance when playing against Gamers from other parts of the world.
End users whose Internet providers (ISPs) are directly connected to the Angola Cables network, will be able to compete without delay connectivity, resulting in a better gaming experience. Internet service providers (ISPs) may incorporate the IP Gamer in its product portfolio and capitalize on the advantages of this solution to retain the end consumer and also to attract new customers.
According to António Nunes (CEO of Angola Cables), the introduction of this innovative service, which will be marketed as IP_Gamer, was the result of many hours of research and development. "Our intention is to develop a unique, safer, low-latency solution, with the aim of addressing and solving some of the challenges brought by the LAG suffered from many Gamers in Africa. At the same time, we are able to bring additional value to the cloud gaming market, stimulating additional income for creators, digital influencers, entities that are part of the ecosystem of e-gaming in Africa and the environment of e-Sports as a whole".

The solution IP Gamer has been customized according to the geographic area. "We have been conducting live network performance tests, replicating the experience of local users, while accessing their gaming preferences. The routes were redesigned taking advantage of the hyper-connectivity advantages of our AngoNAP Data Centers ", said Nunes. "The good results achieved have given us a strong indication that this service premium can be a product that adds significant value to ISPs and Gamers".
The increasing sophistication of games generally leads to greater demand for large volumes of data. Thus, the need arises for the infrastructure to be able to process more data at low latency. "Angola Cables is one of the few companies with the capacity to serve this market differently. We have a robust ecosystem of global connectivity that ranges from submarine cable systems, Data Centers, various Points of Presence (PoPs) with interconnection to the largest international IXPs that provide access and coverage capacity in the Americas, Africa, Europe and Asia ".