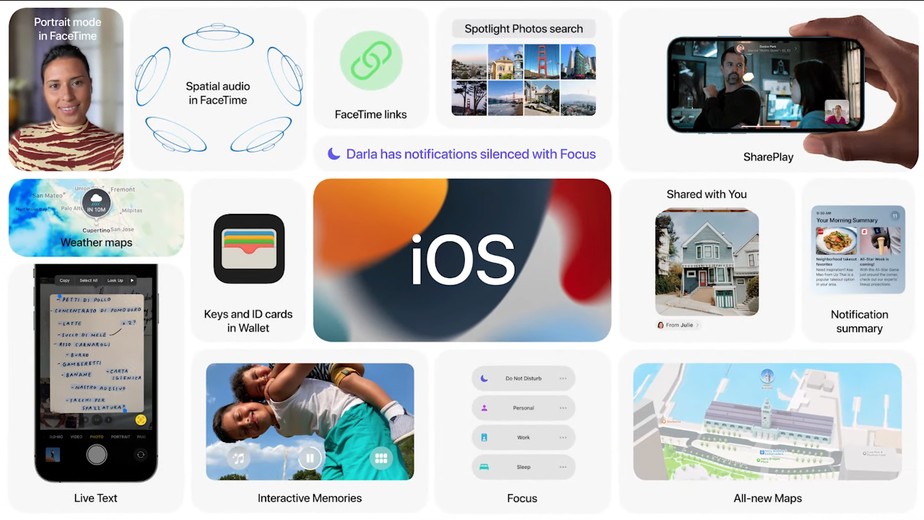 The latest Apple event took place yesterday, June 07, 2021, which served another exclusively for developers, where the main focus was related to the software development aspects of the Apple as well as the announcement of the features of the next version of iOS, which this time is version 15, where users and others also end up having an idea of ​​what is on the way in the next update.
Apple announced iOS 15, which brings improvements to the FaceTime like spatial audio, a new feature "SharePlay" which allows you to share media with people on the FaceTime virtually, updates to Messages, a new look for notifications, the ability to set different "Focus" status, updates to photo memories, a redesign for the weather app and much more.
SharePlay
This new feature will allow Apple users to share music and images in real time via FaceTime. In other words, with iOS15 you will be able to share content with other people virtually (Listen to music, watch movies). Apple is also introducing a SharePlay API so that other developers can build applications that support the feature.
live text
Apple's new Live Text will scan text into your photos, which can allow the user to copy and paste text from a photo, for example, or call a phone number that's in a photo. The feature will use Artificial Intelligence to copy text into photos.
Wallet
Forgot your ID when traveling? Apple already has a solution, the Apple Wallet will soon allow the user to store their identification in digital format (in participating states of the United States), which you will use as identification at airports in the United States, and perhaps later expand. if to other countries.
Privacy
Apple has announced new privacy-focused features, including that Apple Mail will block tracking pixels with Mail Privacy Protection and that the Safari will hide IPs. Apple is also introducing a new section in the settings called "App Privacy Report".
Crab
Currently you can only have access to Crab when the user is connected to the Internet, but things tend to change already. THE Apple will allow Siri to process voice requests on the device, which means the audio will not be sent over the web and Siri can accept many requests offline. The company will also allow third-party accessory manufacturers to add Crab to your devices
TestFlight
Apple announced that it will allow developers to use the TestFlight to test its apps on the Mac. The company also announced the Xcode Cloud, which lets you test your apps on all Apple devices in the cloud.
Watch the summary made by The Verge team with everything that was presented by Apple: