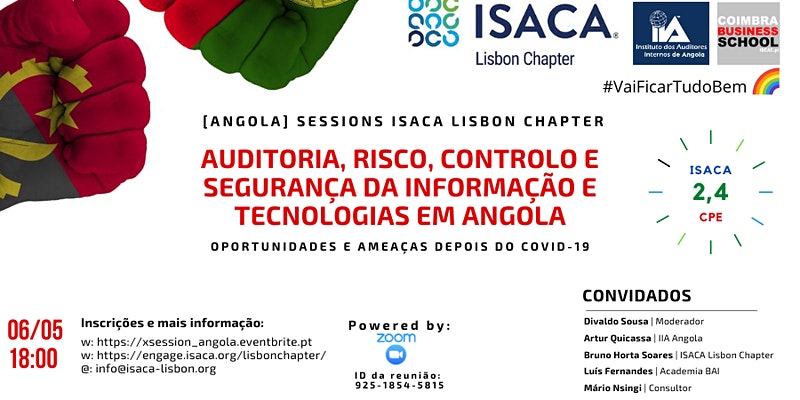 During this phase of combating the coronavirus pandemic (COVID-19), many realized how important technology is in too many sectors, but the language has already played a key role in the proximity between Portuguese-speaking professionals. Since 2013 the ISACA Lisbon Chapter in collaboration with Coimbra Business School, he developed the Post-Graduation in Risk Auditing and Control of Information Systems (currently in its 8th edition) which he takes through B-LEarning knowledge to Portuguese-speaking professionals around the world. This was the first Portuguese language course to be recognized by ISACA as having alignment with the CISA curriculum and over the last few years it has brought together professionals from Angola, Mozambique, Cape Verde, São Tomé and Brazil.
In this context, and responding to the challenge of some Angolan alumni who would like to develop the Angolan community of professionals in the areas of auditing, risk, control and security of Information and technologies, ISACA Lisbon Chapter with the support of IIA Angola will carry out a webinar that will bring together professionals from the ISACA community in Portugal and Angola to talk about the threats and opportunities that the profession and information technology audit, risk, control and security professionals may face in the post-coronavirus.
Schedule:
18:00: Presentation of IIA Angola - Dr. Artur Quicassa - President of IIA Angola;
18: 10h: Presentation of ISACA - Dr. Bruno Soares - President of ISACA Chapter Lisbon;
18: 20h: The future of Information Systems Auditing - Dr. Bruno Soares - President of ISACA Chapter Lisbon;
18: 40h: Governance and IT audit in Angola - Engº Luis Fernandes - Executive Director of BAI Academy and Advisor to BAI Executive Committee;
19: 00h: Challenges of Information Security and Cybersecurity in Angola - Mário Nsingi, Information Security Consultant;
19:20: Community Q&A and exchange of experiences;
20:00: Closing of the session.
The sessions are intended to be an informal and relaxed meeting place for professionals, but also a way to accumulate the CPEs needed to maintain ISACA professional certifications, if you want to be part of this webinar, sign up by clicking here.