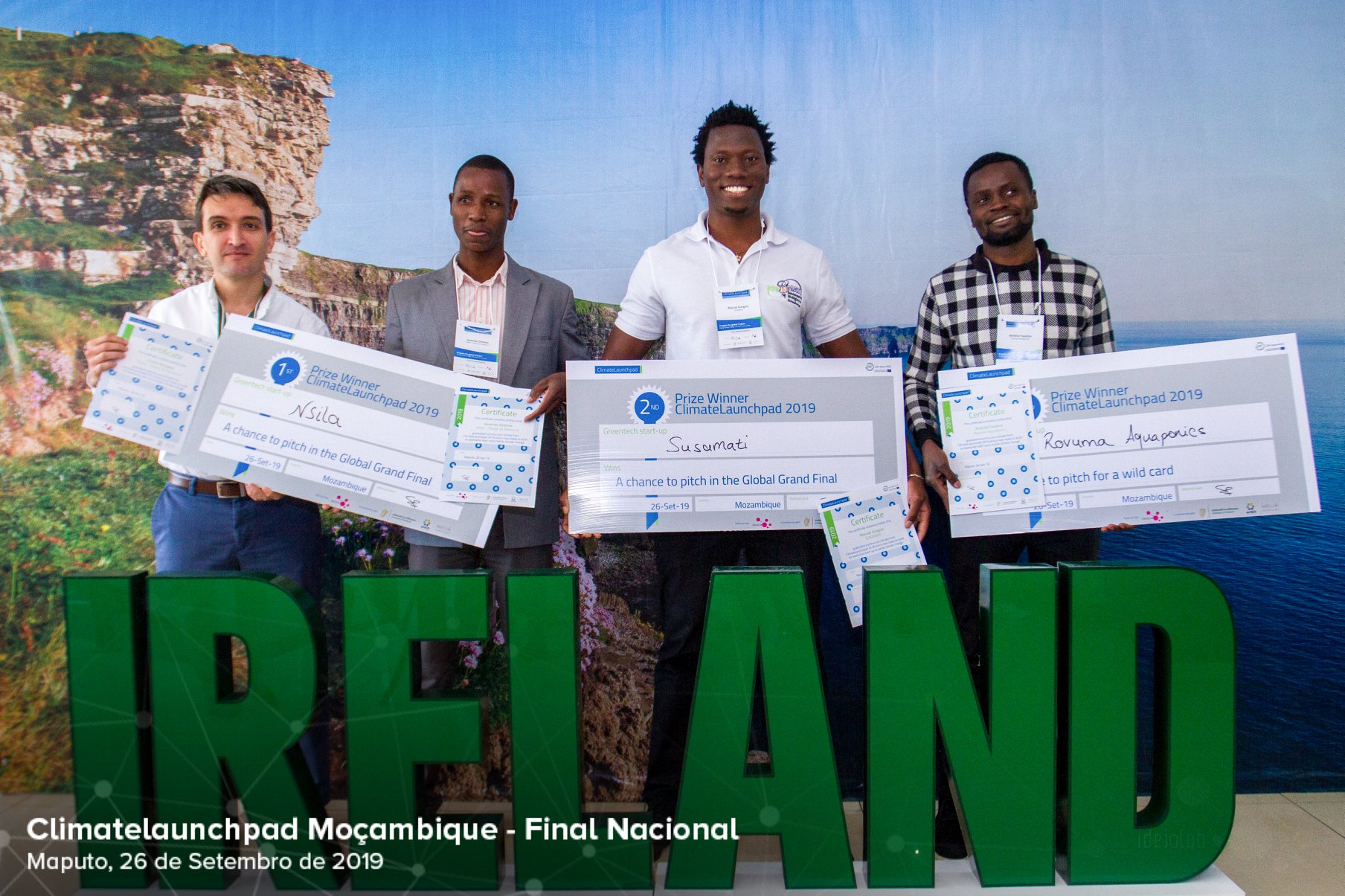 Nsila, Susamati e Rovuma Aquaponics are the startups selected to represent Mozambique in the regional phase of ClimateLaunchpad in Nairobi between 11 and 12 of the current month. The identified startups were honored during the ClimateLaunchpad national competition, last September's 26, event that took place at the Irish embassy.
in Mozambique.
ClimateLaunchpad is the largest global green business ideas competition, attended by more than 2500 ideas from more than 50 countries. It is an initiative of EIT ClimateKIC, the European Union's climate change innovation program, and in Mozambique is driven by the ideaLab, with the support of the Mozambican Renewable Energy Association (AMER), Meliá Maputo Sky and sponsored by the Irish Embassy.
The event's mission is to reduce the negative impacts of climate change through innovation and entrepreneurship, and at the national level had a total of 13 competing ideas.
"ClimateLaunchpad is an opportunity to present the world with the conditions of our reality, good and bad, and the innovative solutions we have developed to improve the lives of all Mozambicans." This is the 'spirit' that Ruben Morgado, representative of the Nsila project, ranked first in the national competition, carries with him towards the event in
Nairobi
The peculiarities of the three selected ideas have 'weight' in the solutions presented, taking into account the positive intervention in the climate and the viability of the business idea.
Nsila It is an initiative based on the reuse of solid waste to change the conventional way of waste treatment.
Susamati arises to address the problem of sanitation of the environment, introducing the concept "fantastic sink", for greater use of it in the most disadvantaged communities, and reduce the use of water in the process of sanitary discharge.
Rovuma Aquaponics It is a project based on the production of vegetables and fish without chemical additives. Like Morgado, António Faustino, representative of Rovuma Aquaponics, ranked third, believes that ClimateLaunchpad is an opportunity to improve their knowledge, the ability to bring together business and entrepreneurship tools associated with the control of environmental problems.
"With this program I realized that it is possible to innovate with solid waste and other materials that we did not think could bring something new to life. I was also able, by sharing the experiences of others, to design a model that can solve some food problems in Mozambique, "added Faustino.
In addition to exposing your green business idea, Manuel Gungulo, Susamati representative, runner-up, wants to use the competition space to exchange impressions with people who may be helpful in developing his project.
After Nairobi, startups will be able to participate in the ClimateLaunchpad international final, which will take place in Amsterdam, the Netherlands, in November, where they can receive, among other prizes, up to 10000 euros.
In this regard, the ideaLab arises with the purpose of inspiring national entrepreneurs, supporting the development of startups and accelerating their growth.