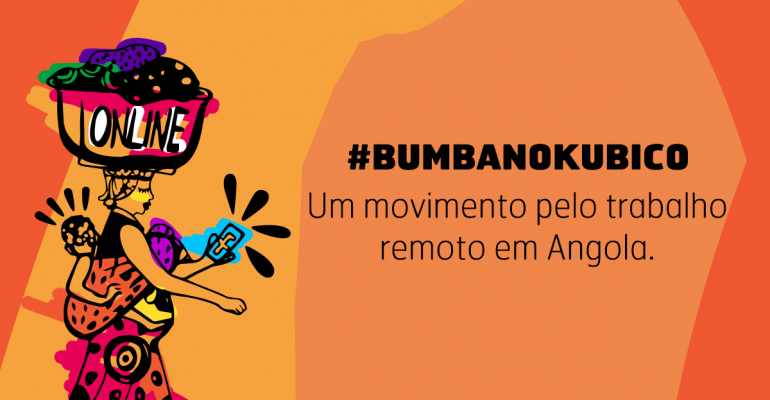 Today the world is affected by a pandemic that we all know, the famous coronavirus (Mesures COVID-19), which has already strongly affected the technological sector, leading several companies in the technological sector worldwide to close their doors, as well as several events in the same segment to be postponed or canceled.
This pandemic affected the world in such a way that many companies had to adapt to the way they work, many had to adopt remote work to avoid contagion in their organizations, but let's take into account that these companies are in countries that offer Internet access conditions for carrying out such work.
Is Angola prepared for remote work at this stage?
Before we start to explore this topic that is very sensitive for our country, we have to take into account that not everything that is done in person at the company's facilities can be done remotely, for example, it gets complicated for a construction company continue to build houses without the local presence of the team (at least for now). Therefore, the team / company manager must prepare a list of tasks that can be carried over to remote work and which elements of the team will be part of this "digital workforce".
In this case, drawing up plans, customer service, construction reports, etc., are tasks that the construction company can continue to perform without problems, but for this to happen there is a need to use a number of resources and tools that can be used.
After defining the tasks and the team involved, the need arises to guarantee material and material resources for carrying out the work. Here are the essentials:
Computers
Without them, it is not possible to virtualize the work. Therefore, it is necessary to make sure that each member of the remote team has a "machine" available to perform the defined tasks at home. Here, some of us will transport computers from the office to home.
Connection to Internet
This is probably the main resource for the success of any remote work action in Angola and beyond. Not to mention that, at this moment, normal supply is limited due to a malfunction in the submarine cables that "supply" Internet to the country. Another dilemma is the limited coverage of such operators. For example, TV CABO covers only some parts of the cities of Luanda, Lobito, Benguela, Lubango and Huambo. ZAP Fibra covers only some parts of the city of Luanda. But the most flexible solution in terms of coverage is Unitel's Net Casa, available in all provinces of the country. Certainly, other operators will have solutions to serve at this time.
Collaborative work tools
In addition to the Internet connection, each team needs to choose one or more interaction platforms to maintain communication and management of daily activities. Large companies usually have already defined super robust communication systems, but for those looking for simple, practical and free solutions, here are some suggestions:
Google Drive: The free version includes applications similar to the package Microsoft Office, which allow the creation of documents fully compatible with Office, Excel or PowerPoint, where each team member can participate collaboratively, completely online. In addition, Google Drive offers 15 GB of cloud storage for each user.
Trello: The Trello is a collaboration tool that organizes your projects on boards. In summary, the Trello it serves to inform which tasks are being worked on, who is working on what, and where a task is determined in May to a process. It also allows the creation of work teams and the sharing of different file formats up to 10 MB each.
TeamViewer: Have you ever had to peek, access a file or use a certain application on your colleague's computer while working? Know that you can do this remotely. O TeamViewer is a comprehensive remote access, remote control and remote support solution that works with almost all desktop and mobile platforms, including Windows, macOS, Android and iOS. It allows you to remotely connect computers or mobile devices located anywhere in the world and use them as if you were there.
WeTransfer: If you need to transfer "heavy" files from one computer to another remotely, this is probably the best solution. The online file transfer service that allows you to send up to 2 GB in a simple and intuitive way. To use it, it is not necessary to create an account on the site or enter personal data, just have a valid e-mail address, the item to be sent and the recipient's e-mail.
DropBox: It is a service for storing and sharing files. It is based on the concept of "cloud computing" ("cloud computing"), The customer has the option to use it free of charge, but can pay to get some extra functions of remote storage of 5 GB (new members) of files and can have up to 1 TB if you choose a paid plan.
Communication Tools
WhatsApp: Yeah, our daily WhatsApp is an essential communication tool for remote work. Daily, we already use this application for this purpose and we don't even realize it. But the truth is that it works perfectly for written communication, voice and even group video conferences. An excellent option for customer service and even virtual meetings. In addition to the possibility of sharing files of different formats, up to 64 MB. What's more, everyone has it and uses it, they don't have to go through the suffocation of invitations and installations at each new meeting.
WorkPlace: Have you ever imagined having a Facebook + Messenger with just your company's people? Workplace is literally that (it even belongs to Facebook) a closed environment for sharing information, with the right to chronology, feed, groups, chat, video calls, file sharing and much more emoji. It has a free plan, available in the web and mobile version.
Skype: Already known to many, the Skype is software that allows you to chat with the whole world. Millions of people and businesses use it to make free video and voice calls between two users, as well as group calls, send messages from chat and share files with others on Skype. You can use Skype on the device of your choice: on your phone, computer or tablet. Free to download and easy to use.
Google Hangouts: It is an excellent alternative to Skype, with the advantage of being able to use your Gmail account for login. This communication platform, developed by Google, includes instant messaging, chavideo t, SMS e VOIP.
Zoom: If you work remotely, you've probably heard about Zoom, one of the leading software applications for videoconferencing on the market. It allows you to interact virtually with co-workers or employers when face-to-face meetings are not possible. This makes tele-work feel much more human as it helps you feel connected.
Microsoft Teams: It is a unified communication and collaboration platform that combines chat, video conferencing, file storage (including file collaboration) and application integration in the workplace. The service integrates with the Office 365 productivity suite and features extensions that can be integrated with non-Microsoft products.
The idea of ​​this article is to show that, some companies in Angola have the ability to use remote working tools in case the situation of Covid-19 spreads to our country, since there are already 2 confirmed cases. But it is worth mentioning here that the Internet connection will be a major obstacle, since not everyone has access.