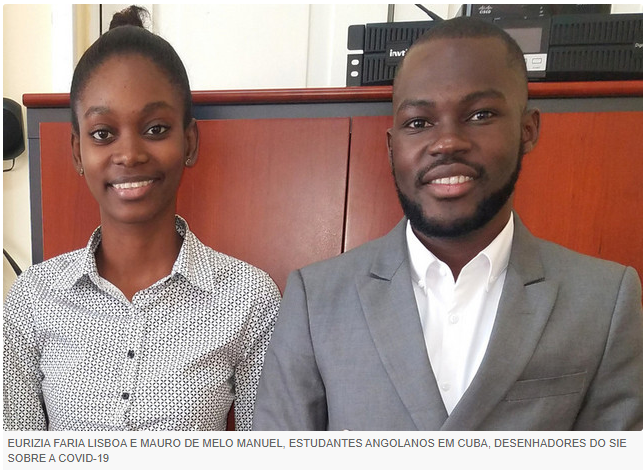 So far we have been following some web applications developed by Angolans regarding the coronavirus (COVID-19), where one of these allows you to make a self-diagnosis of the pandemic, if you are experiencing any of the symptoms. The more people who are informed and in social isolation, the better the statistics, the less likely they are to be infected.
To help in better decision-making, two Angolan students in Cuba, finalists from the Faculty of Health Technology, from the University of Medical Sciences of Havana, developed a "Statistical Information System - SIE", with the aim of collecting, processing and presenting information about COVID-19.
Conceived by Mauro de Melo e Eurizia Faria Lisboa, the project is essentially aimed at patients who have symptoms related to the new coronavirus, treated at institutions of different levels of health care for better decision making by the competent bodies. The system, says a note, allows the screening of people suspected of the disease, from urban areas to the peripheries.
To mitigate the problem of the pandemic in the first level of health care (health posts and centers), a set of health models was developed for data collection, as well as strategies that can be carried out in neighborhoods, communes and different municipalities. country ", he indicates. As for the second and third stages of health care, students point out that there are action strategies, models and procedures for both doctors and statistics professionals, as well as indicators that can help with data calculations and information presentation.