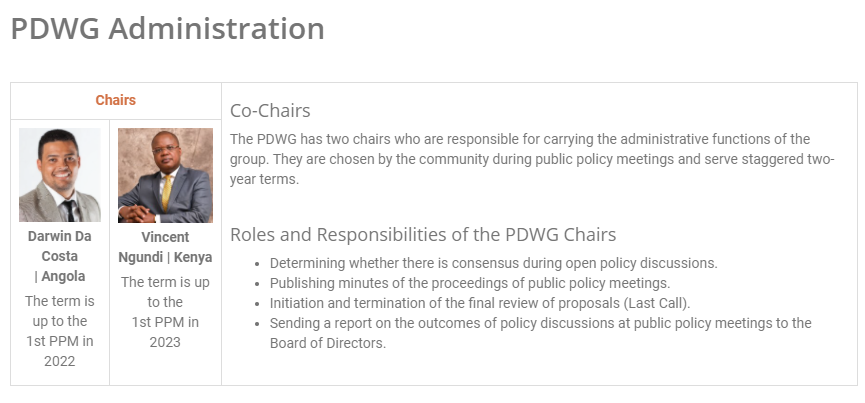 The internet has become an essential part of modern life, even though there are places where people do not have such easy access, but nowadays there are organizations that help with their better distribution as well as the definition of policies for their better functioning and governance. . These institutions are called RIRs (Regional Internet Registry).
AFRINIC (African Network Information Center) is the regional Internet registry for Africa, with the aim of managing the allocation and registration of Internet number resources that include IP addresses and autonomous system numbers (ASN). After the selection period and in a list of (5) submissions to occupy the position of Deputy Director of the PDWG (Policy Development Working Cranep) from AFRINIC, Angolan Darwin Costa was one of the elected with Kenyan Vicent Ngundi.
O Policy Development Working Group (PDWG) develops and discusses the number of resource policy proposals that AFRINIC implements to distribute IPv4, IPv6 and ASN resources in Africa. The PDWG is made up of anyone who, personally or via the Internet, participates in the discussion of policy proposals through the resource policy development mailing list (RPD) or at a public policy meeting (PPM). The first challenge will be to lead the first PPM (Personal Private Meeting) to be held in June 2021 during the AIS (Africa Internet Summit).
Currently Darwin Costa is the General Manager of the AONOG group (Angolan Networks Operators Group) where topics related to the Internet are addressed in the national territory during the AOPF event (Angolan Peering Forum), he also worked for Angola Cables for 7 years as an Internet Specialist and is currently at the largest traffic exchange point in the world www.de-cix.net with its headquarters in Germany, Frankfurt. He is also deputy director of the administrative group of the PeeringDB which is a free web-based database for networks interested in interconnection. The database is what has become the standard for collecting interconnection data on the Internet.