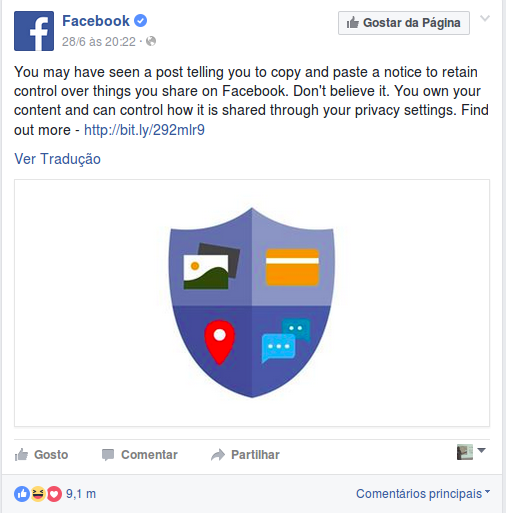 In the last few days we have seen a chain with publications related to privacy of Facebook, indicating that the company would use confidential user information.
The widely publicized message, including by users in Angola, is as follows:
I DO NOT AUTHORIZE !!!
As of July 28 of 2016, I do not give permission to facebook or entities associated with facebook to use my images, information or publications, both past and future. By this statement, I give notice to facebook that it is strictly prohibited to divulge, copy, distribute or take any other action against me based on this profile and / or its content. The content of this profile is private and confidential information.
Note: Facebook is now a public entity. All members should post a note like this.
If you prefer, you can copy and paste this version. If you do not publish a statement at least once, you are tacitly allowing the use of your photos as well as the information contained in the profile status updates. Do not share. You have to copy and paste.
Obviously there is something wrong there, this is not how things work on Mark Zuckerberg's social network. If you were aware, when you created your account, there is a document called "Terms and Services"That we all wake up to when we sign up for the social network, although 99.999% of people have not bothered to read. But, the terms clearly mention that "you are the owner of your data" (even because if a user makes a "criminal" publication, Facebook will not be legally responsible)
Let's go a little further: what do the Terms and Services say?
You have all the content and information you post on Facebook, and you can control how it is shared through your privacy settings and of application.

If you still have doubts about believing that the message that has been circulating is false, read the official article published by the team:
So, don't fall for this "wave"… check your privacy settings and limit the maximum that you can have access to your content, just so you can increase your security a little. Don't forget, while registered on Facebook, the company can use your data.