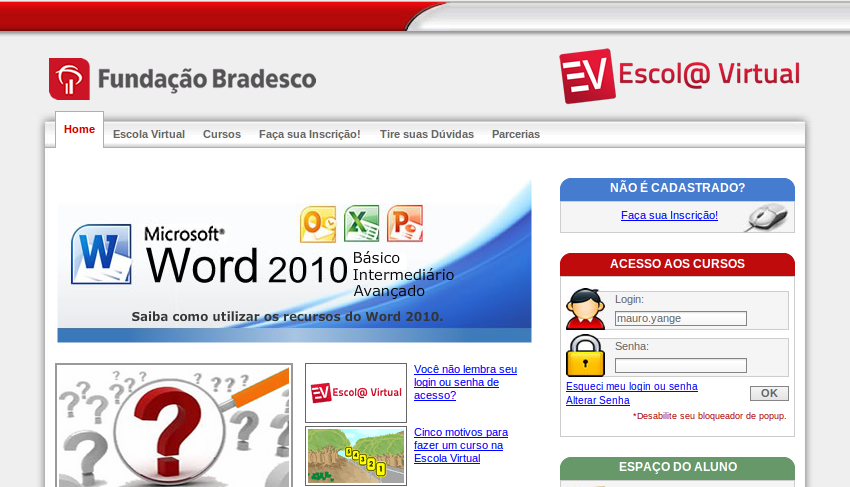 A [email protected] Virtual is a portal of e-Learning dedicated to offering distance courses for free, via the Internet. was founded in 2001 by Fundação Bradesco with the proposal of providing a virtual learning environment in which the student is the main agent and driver of his learning. The portal offers courses in several areas of knowledge, where I highlight Database, Application Development, 2010 Office Package, Security, among other areas.
In order to have full access, simply complete your registration by completing the Registration Form, it should be noted that EV won the e-Learning Brasil Award four times, in the "Educacional Star" and "Nacional Referral" categories.
I personally have already taken several courses in EV and I can attest to the quality of this school, which has "strong" partners such as Cisco, MIT and Intel. Each student can enroll in as many courses as he / she wants and at the end there is a performance evaluation test, if the grade exceeds 70% the student is approved and can print his / her Certificate, signed and with an authenticity code.
I took the liberty of making a TOP 10, of the courses of the EV that I recommend, let's go to this:
Excel 2010 (Basic, Middle, and Advanced)
Network Fundamentals
Written Communication
Project Management (1, 2, 3, 4 and 5 levels)
Introduction to Digital Photography
HTML (Basic and Advanced)
WebDesign
Java and Windows Mobile Applications
Business accounting
Financial math
Conclusion
As I had already written in the article about online universities, Distance Learning has grown at a very fast pace, try this new way of learning and discover the many advantages. Do not forget to come back here and leave your comment about your experience with e-learning.