If you have a phone with an Android operating system, you can check your list of apps to confirm the extensive list of apps and services owned by the powerful Google. The success of the search engine gave Google a chance to invest in different areas and become one of the richest and most valuable companies in the world.
Every success comes with learning and, obviously, a great history of failed projects. Can not remember all of Google's unsuccessful projects? A developer of the Bahrain decided to document all of them in a "virtual cemetery".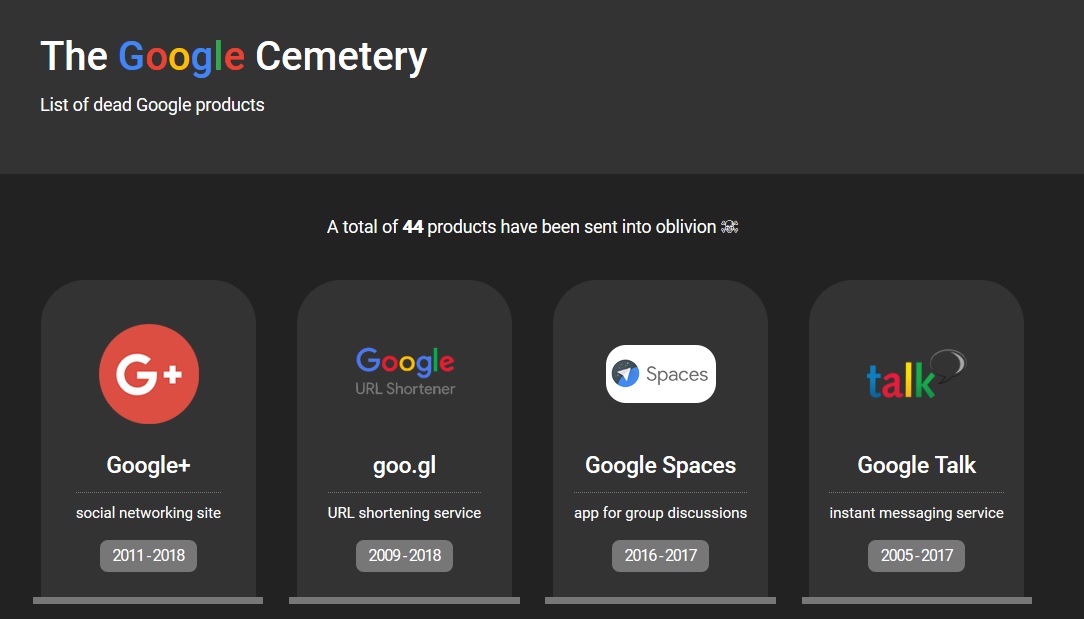 What outstanding projects are in the "Google cemetery"
1.Google +
A social network of Google was suspended a few weeks ago and will be fully discontinued in April of 2019. Main reason: security issues. Details of user accounts leaked and confidence in that social network has dropped even more.
2.Google Wave
Google Wave was a project announced in 2009. It was a web platform whose intention was to unite email, instant messaging, wiki and social network in a unique environment. One of the most impressive features at the time was the ability to see what the user on the other side of the window was writing in real time, giving a high collaborative potential.
3. Google Talk
Google Talk (GTalk or Gtalk) is an instant messaging and VoIP service based on the open Jabber protocol. The service was released on 2005 and survived until 2013 when it was replaced by Google Hangouts.
A list has 44 items and has some classic Google services and others not so well known.
The Google services graveyard was created by the developer Naeem Nur, I Bahrain .