A GoPro officially unveiled two 19 Hero series cameras for the public and lovers of video or even photos on Monday.
The two models presented by GoPro, are Hero5 Black and Hero5 Session, have many evolutions with respect to the past models already presented by the brand. GoPro has greatly improved both recent models, all because its latest model was the Hero4 Black, which was still considered one of the best-performing camera produced by the company before the two cameras put on the market today.
Let's detail the two models separately, so that our readers and technology lovers can perceive, their characteristics and advances brought:
GoPro Hero5 Session
It is practically a camera that can make a maximum of video recordings with up to 30 frames per second, it has a very powerful photo sensor that can take images up to 10 megapixels. Several features have been improved with respect to the GoPro Hero4 Session. Hero 5 features electronic stabilization and lenses that can prevent any distortion in an image. It is water resistant without the need for additional items and has total control through a single button.
GoPro Hero5 Black
You can take a photo capture with up to 12 megapixel quality, 4K video recordings at 30 frames per second, waterproof without protective covers and can be immersed up to 10 meters deep without worrying about your protection . Photos can be in RAW and WDR and audio recordings in stereo. GoPro has greatly improved this device, mainly the camera sensors and show better results if compared to Hero4 Black.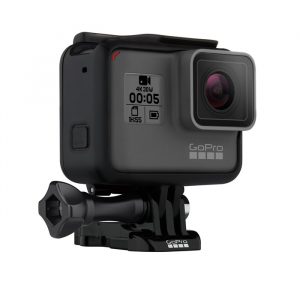 The two cameras presented by GoPro, will be officially marketed at different prices as we can already see by their particularities and improvements. The GoPro Hero5 Black will be sold at $ 399 and the GoPro Hero5 Session will be sold at $ 299, both at the official price. Hero5 Black hits the shelves on October 02nd and the Hero5 Session on October 23rd.
As mentioned, the cameras have digital image stabilization, which promise to make recorded films less influenced by tremors caused by rough terrain or by handling difficulties. For lovers of recording various moments of their lives such as tourists and beyond, GoPro has launched something that we think will please the majority.