---
You may have heard about the controversy with taxi drivers around the world, or the compliments about the convenience that the service offers, but in one form or another, the name "Uber" must have reached your ears.
Uber maintains its initial idea: to connect people who need to move, with others who have a car and decide to go the route requested. Currently there are new services, such as Uber Foods, but the idea is the same ...
In Africa, 8 countries were contemplated by Uber, Angola is not one of these countries. However this is not bad at all, we had room for a national service, the Kubinga!
But returning to Uber, launched in Africa 5 years ago in Johannesburg (South Africa), the service struggled to survive during the first few months. One of the main reasons was the form of payment. When we make it mandatory to use a credit card to pay for Uber in Africa, we obviously compete for service failure. Following the change in strategy, Uber noted that cash (physical) payment was quite popular, especially in Tanzania.
Another key point that the American company realized: in some regions of Africa, cars are not always the primary option. Uber X, Uber XL - can be made available with comfortable cars, but people simply do not use the application.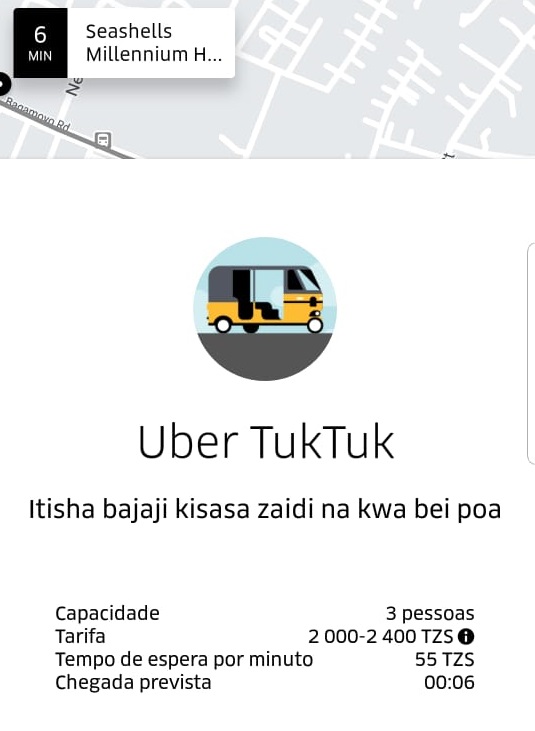 In peripheral areas, Bajaj (as they are called in Tanzania, or Tuk-Tuk, terminology better known in other regions for motorcycles with 3 wheels) are quite popular. Just walk around the city to see which places (and even tourists) use this type of transport a lot.
The fact is that the company has given a lesson to others, on how to promote adaptation in emerging markets ...
---