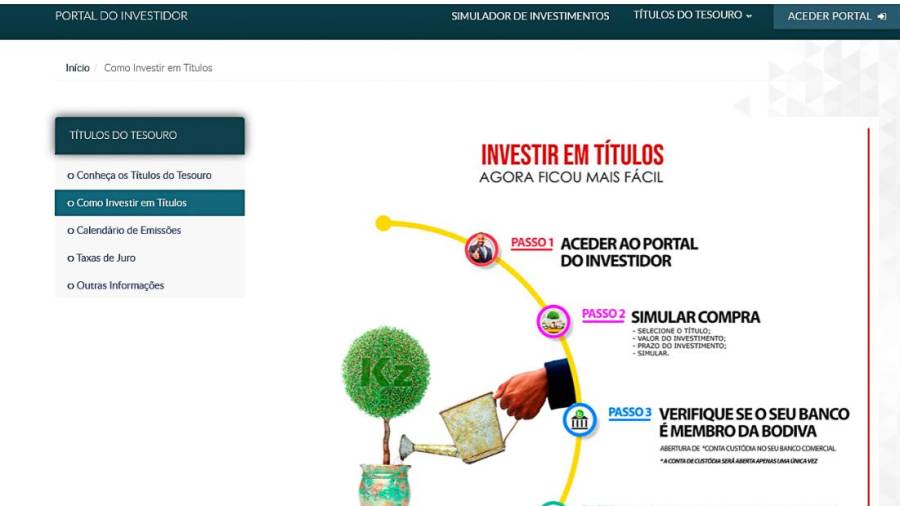 Currently the Ministério das Finanças has an Investor Portal, where at 2018, five banks have concentrated 87% of the volume of funds through the portal. Regularization of arrears boosted liquidity of economic agents.
Treasury Securities traded via Investor Portal (PINV) moved around 4,67 1 billion KZ until December of 2018, according to the PINV Monitoring Report available on the website of the Public Debt Management Unit (UGD).
Since the entry into operation of this Portal in June last year, December was the period in which the largest volume of funding was recorded, with an amount of 1,18 billion Kz, equivalent to 3,8 million USD. In this period, emissions increased by 63% compared to the previous month (November).
According to the document, this increase was due in large part to the increase in the liquidity levels of economic agents, influenced "primarily" by the additional payments related to the Christmas subsidy and the regularization of arrears by the State.
Investment by banks
Since its launch, the five 14 BODIVA member banks that contributed most to the volume of funding were BAI, BFA, BIC, Banco Sol and BMA with representations hovering over the 30,5%, 22,7%, 17,1%, 9%, and 7,7%, respectively.
These institutions together held a market share of approximately 2018% in 87. Of the total invested up to December, about 53%, that is, 2,4 billion Kz were destined for Treasury (BT) tickets. The remainder relates to long-term securities.