It is not news to any of us that COVID-19 it really came to bring the future into the present, to readjust development pointers and to requalify the essential values ​​of life. Along this path, even education, which is essential for the formation of a dignified and just society, has been put to the test, so much so that some countries have shown themselves to be incapacitated with regard to distance learning.
Many approaches have been raised since the paralysis of face-to-face education in Angola, during the first State of Emergency decree, on March 25, 2020. From that date, educational institutions have been creating isolated alternatives for the maintenance of such a noble mission, using some technological tools (essentially social networks). Until, through joint executive decree No. 201/20, July 09, all private education institutions were prohibited from charging fees, based on the "distance learning" model, including higher education institutions that have the model regulated by Presidential Decree 59/20, of 03 March.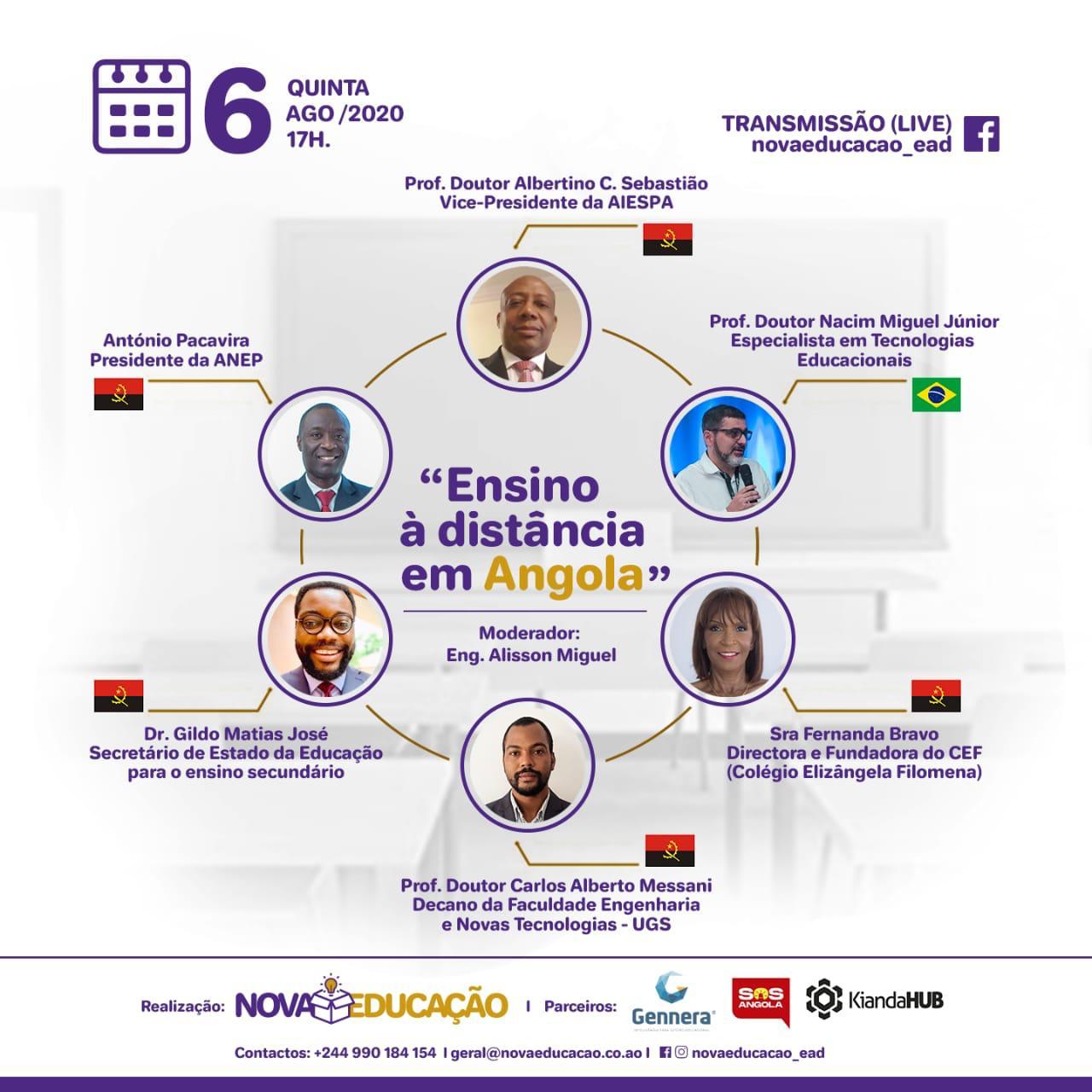 In order to eliminate doubts, discuss the challenges and alternatives, on Thursday, August 06, 2020, from 17:00 (Angola time) the Webinar with the theme: DISTANCE TEACHING IN ANGOLA with the following speakers:
Gildo Matias - Secretary of State for Education for secondary education;
António Pacavira - President of ANEP (National Association of Private Education);
Albertino Sebastião - Vice President of AIESPA (Association of Private Angolan Higher Education Institutions);
Carlos Messani - Dean of the Faculty of Engineering and New Technologies at UGS (Gregório Semedo University);
Fernanda Bravo - Director and Founder of CEF (Colégio Elizângela Filomena)
Nacim Júnior - Specialist in Educational Technologies (Brazil);
Share with all your contacts who believe in education as being an irrevocable right in the formation of the individual and the development of any society, and Angola does not escape this rule. To follow the event on that day and time click here.