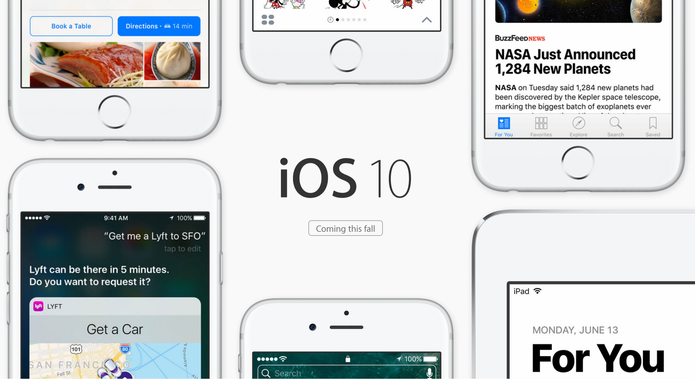 O iOS 10 arrived this Tuesday at iPhones e iPads, the main devices sold by Apple. The software was announced in June this year.
The new version of the Apple operating system, iOS 10 brought a new design for the lock screen and more interactive and complete notifications. Where from now on the notifications are bigger and easier to read, in addition to bringing more information, preventing you from opening the application.
Another novelty that Apple's iOS 10 brought is the iOS keyboard, which has a much greater capacity for context recognition and learning. Called the Quick Type, it will be able to recognize words and offer information related to it. For example, if someone asks for someone else's phone number, the keyboard itself will show the option to send the requested number. Another possibility is if someone asks where you are, the keyboard will show you the option to send your location.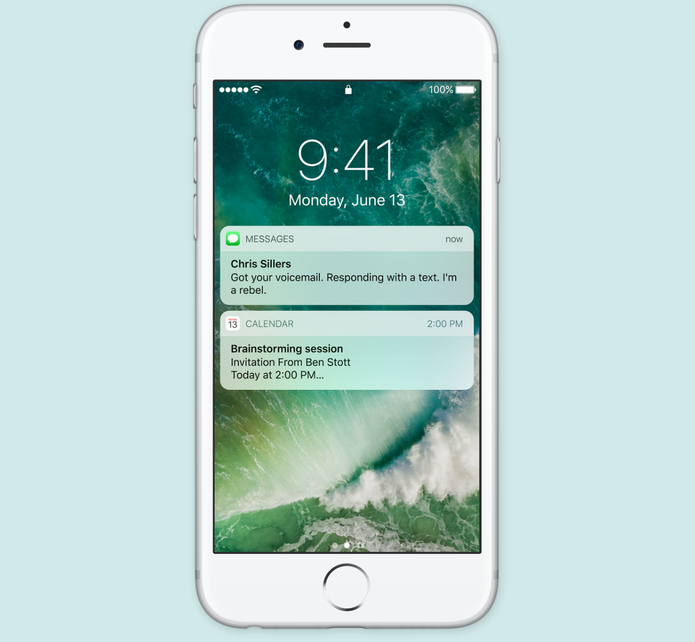 Apple also innovated the Control Center that received attention in this new version of iOS 10 and is now redesigned, has an area with new buttons and easier to control various functions, such as Wi-Fi, Bluetooth, AirDrop and others. Changes when the user is listening to music with the screen locked, so that he unlocks the screen before the digits of where to put the code appear, he must first press the Menu button.
There were also changes in security, when you put your iCloud ID on an Apple device with iOS 10 for the first time, ask you to enter a phone number and then send a 6-digit code to confirm the device you want to use your account, it should be noted that the user chooses the way in which he wants to receive the code, can be via message or via a telephone call.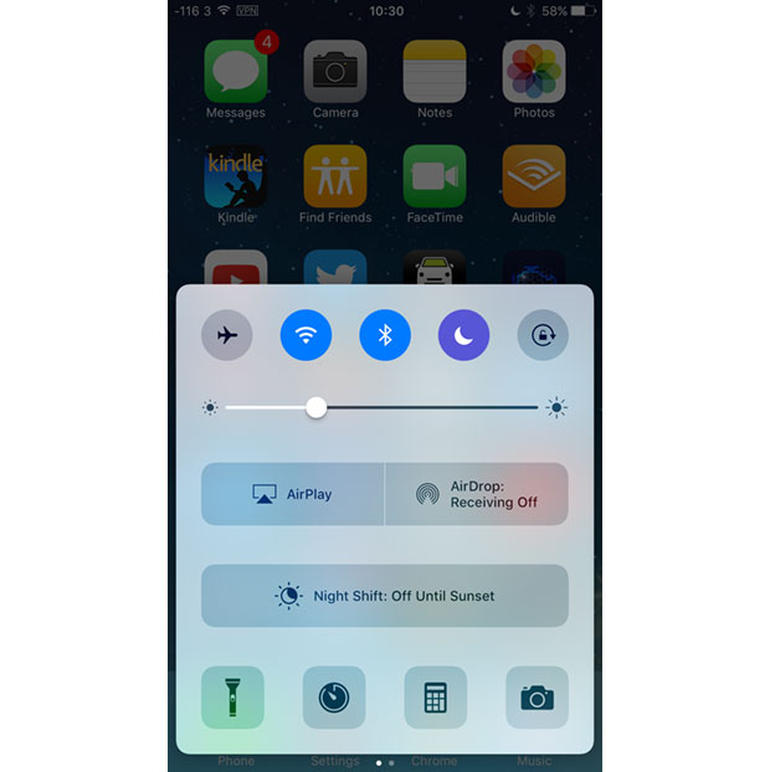 Another interesting addition to the iPhones unlock screen is the new gesture navigation for important functions. With a move to the left, you can open the camera faster without touching the old icon. Already the finger drag to the right will display the "Today" screen with widgets and suggestions of applications made by Siri. Without forgetting that from the new version of iOS 10, emoji are now also different from other operating systems, such as Android.
See below the complete list of news launched by Apple:
Posts
expressive messages:

send messages with effects, invisible ink, softly, forcefully or with a bang;
Celebrate special moments with full-screen effects;
react quickly to messages, links and photos with Tapback;
see your handwritten messages appear on the screen as ink on the paper;
send drawings, ringtones and heart beats with Digital Touch;
turn your words into emoji with one touch;
Share web pages through complex links that show a preview of the content.

applications for iMessage:

new App Store for iMessage;
use other applications in Messaging to share and collaborate with your friends;
download stickers to send and put in text balloons and photos.
Crab
Siri can now perform the following actions on different types of applications:

send, search and read text messages in messaging applications;
make calls in VoIP applications;
search for images and photographs in photo applications;
search for and reserve vehicles in private transport service applications;
make personal payments on payment applications;
start, stop and pause workouts in fitness applications;
adjust settings for temperature, radio, seat position and other personal settings in CarPlay compatible car manufacturers' applications.
Maps
completely new look:

proactive suggestions of places you may want to go, based on your routine or calendar events;
improved search with new design, grouped results and category filters;
your address, where you work, favorite places, and locations of events scheduled in the Calendar now appear on the map;
see where you parked the car through CarPlay or Bluetooth;
information in the zone you are viewing on the map.

extensions:

make a reservation within the Maps application through compatible application extensions;
use the Maps application to reserve a vehicle through the private transport service application extensions.

step-by-step improvements:

look for gas pumps, restaurants and cafes along your itinerary;
automatically view changes to the initial itinerary;
use zoom and move the visible area of ​​the map while navigating;
new option to avoid tolls and motorways.
Photos
advanced face recognition technology designed with deep learning to automatically group similar faces;
recognition of objects and landscapes allows intelligent search of the photographs through an advanced reading of the local library;
album Places to view all photos, videos and Live Photos on a map;
Souvenirs:

intelligent highlight of events, trips and people in a unique collection;
automatically edited memorabilia with music, titles, and cinematic transitions;
rediscover photographs of your photo library with the possibility of relating memories based on location, date and people, landscapes and objects photographed;
easily share with friends and family.

Brightness control applies specific adjustments to different parts of the picture to better adjust brightness, strong light, and contrast.
Home
new home application to be able to safely control and manage your HomeKit compatible home accessories;
scenarios that allow you to control groups of accessories with one touch;
informational notifications with quick actions to control the accessories;
option to share access to the house with friends and family;
remote access and automation of accessories through Apple TV or iPad.
Apple Music
new interface, clearer and easier to explore;
explore your library through the enhanced menu and see all the downloaded music that you can play offline on your device;
see recommendations for yourself, with highlights, playlists, albums, and Connect publications - all selected for you based on the music and performers you like;
on Browse, find exclusive releases, select playlists, and discover the most important new releases - picked weekly by our publishers;
listen to the radio more easily - see what's being streamed live on Beats 1, listen to your favorite shows whenever you want, or choose a station by whatever genre you want to hear;
in Playing, see the lyrics that are available, or edit the songs you want to hear next - just swipe your finger up.
Apple News
"For you"Completely redesigned, with very legible typography, vibrant colors and distinct sections that facilitate the search for articles by topic;
in the "Most Popular Articles", Updated throughout the day by our editors, find the most important articles of the day;
find the articles "most reads "in the Popular articles section;
see and see your articles grouped into sections according to the topics you follow or read;
find the most interesting articles of the week in the Featured articles section, organized by our editors;
share articles with ease - just tap the sharing icon on any article to send it to a friend directly from the To section;
receive notifications about breaking news from our most trusted sources;
subscribe to your favorite journals and magazines directly in the News application;
new custom view widget that allows you to stay informed throughout the day.
Experience
Wake up to wake up feature automatically lights the iPhone screen when you lift it;
complex notifications that support real-time information, audio, photos and video;
Today redesigned view with support for all new application widgets like Weather, Scheduled, Maps, Stock Exchange and many more;
redesigned control center, provides better access to different controls and includes separate tabs for music playback and the Home application;
use of the most comprehensive 3D Touch touch:

in notifications on the locked screen, allows for a wider view and access to quick actions;
new quick actions for system applications (Weather, Stock Exchange, Reminders, Health, Home, FaceTime, iCloud Drive and Settings);
in the home screen widgets;
in the control center, allows quick access to actions with the Flashlight, Timer, Calculator and Camera;
Clear everything in the notification center.
Quicktype
new emojis, including diversified versions of existing characters, variants for single-parent families, rainbow flag and new designs of the most used emoji;
deep neural network technology used in contextual predictions for current location, recent addresses, contact information, and availability;
emoji suggestions;
Calendar events intelligently populated with information from your conversations in Mail and Messaging applications through deep learning technology;
Multilingual writing allows you to write in two languages ​​at the same time without having to change your keyboard;
new technology on the iPad allows intelligent adaptation to the writing and keyboard usage patterns of each user;
predictive writing now uses deep neural network technology to improve the relevance of suggestions.
Telephone
voicemail transcription (beta);
warnings against spam calls through specialized third party applications;
support for incoming calls on the screen blocked through third-party VoIP applications, including support for Call Waiting, Mute and Do Not Disturb.
Other improvements
Apple Pay in Safari
see two pages at a time on the iPad, with Split View in Safari;
Collaboration in the Notes application allows you to invite people to contribute notes;
support for bookmarking in Applications Messages, Photos and PDF documents saved in Notes application;
warning to go to sleep in the Clock application allows you to set a regular sleep schedule and receive reminders at bedtime;
support for health registration and organ donation in the Health application (available in the USA only);
stabilization support for Live Photos, improving image quality;
support for Live filters while capturing Live Photos;
iCloud Drive now supports macOS desk and folder folders;
more comprehensive Spotlight search results in Chinese and Japanese;
Siri has support for new variants of Chinese (Cantonese), Spanish (Chile) and English (Ireland and South Africa);
Ling Wai and Kaiti Black fonts for Chinese;
Yu Kyokasho and Toppan Bunkyu Japanese fonts;
new dictionaries of traditional Chinese and Danish, and bilingual dictionaries of Dutch and Italian;
new keyboard for Spanish (Latin America).
Accessibility
Lupa now uses the camera of the iPhone or iPad as a digital magnifying glass for everyday objects;
new range of color filters for different types of color blindness or other visual impairment;
VoiceOver's new pronunciation editor lets you customize the way words are spoken, as well as additional voices and support for multiple audio sources;
additional text highlighting features with screen content enunciation and selected content enunciation options as well as ability to enunciate keypad letters and writing cues that facilitate multimodal learning;
the knob control lets you control the iOS, macOS and tvOS of the same iPhone or iPad, avoiding the configuration of the knobs on the secondary device;
TTY software allows you to make and receive TTY calls without the need for traditional hardware accessories;