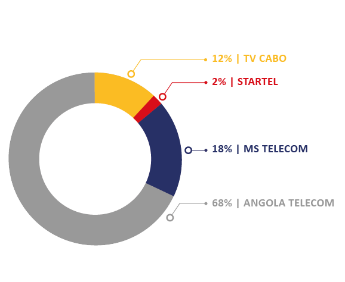 It is known that the fixed network market in Angola has 4 operators, and so far Angola Telecom continues to dominate the market. But it is known that a new operator in the market which may also operate in this segment.
According to statistics recently presented by INACOM, in the year 2016 a ANGOLA TELECOM 68% of the fixed telephony market in Angola, the MS TELECOM with 18%, the CABLE TV with 12%, and finally the STARTEL with 2%.
What does the market share mean?
The market share refers to the market share held by an organization. His measure quantifies in percentage the quantity of the market dominated by a company.
Can these percentages change soon enough?
We believe that yes, with the entry of a new operator in the country that will operate in the fixed segment, the fixed network market will give consumers more choice and will allow more competition with the operators that are already in operation. It is certain that the market share will be further subdivided.
Do you think the statistics for the year of 2017 in the fixed network will change?