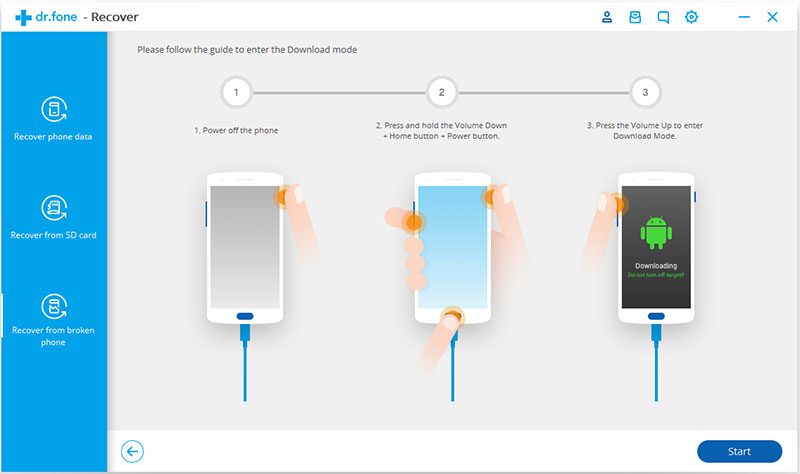 A dr.fone, is an effective application that counts on a set of tools with many features, such as recover, transfer, switch, our equipment. Best of all, it works on both devices Android, as in devices iOS.
It does not matter if the content has been accidentally deleted, or if the files are gone after the device has been corrupted or even after failed system updates. Whatever the problem, the dr.fone is an easy-to-use program for recovering data and files.
How do I backup and restore Android devices?
Connect your phone to your computer, start dr.fone on your computer, select Backup & Restore from all functions.
Then connect your Android device to the computer using a USB cable and press OK.
Click Backup and select what you want to back up.
The backup process will take a few minutes. Do not disconnect or use the phone during the backup process.
How to restore the backup to the machine

Connect your phone to the computer, start dr.fone on your computer, select backup & restore and all functions.
Select the backup files you would like to restore, after clicking the restore button, the program will display all the backup files of the phone on the computer.
Select the backup file you need and click View next.
View and restore the backup file to your phone.
If you want to change phones, be aware that with 1 only click you can copy all information from one phone to another, with the Dr.fone Switch feature. You only need to run the program, connect both devices to the computer, choose the data you want to move from one device to the other, and have it run.
In order to access dr.fone - Switch and all its advantages, we have to download the base application that can be done from of this link available for both Windows as if to MAC.
With this program, the phone exchange works perfectly for more than 6000 smartphones and tablets, which includes Apple, Samsung, Huawei, OPPO, Sony, HTC, Google, LG, Motorola, ZTE and much more.
Dr.phone has a more than simple interface, which loses only because it does not have Portuguese but, even so, in English it has almost nothing to cheat. The speed of the program depends solely and exclusively on the amount of data we select to transfer.
Always remember that the application must be installed on the computer that you want to back up or restore.