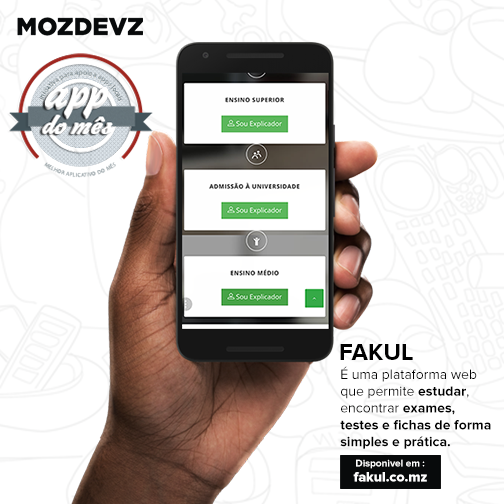 In most countries, access to Public Universities is always associated with a high degree of difficulty. This difficulty most often consists of the poor preparation of the candidates.
In order to help candidates who wish to enter public universities in Mozambique, Fakul, with motto "Marrar has never been easier.", A web platform that allows you to study, find exams, tests to help you take entrance exams at public universities.
Through this platform, candidates in Mozambique can also find the test correction guides passed for their course and others, explainers to help them along their route, and it also has a forum where candidates or students can submit questions and questions for discussion, and finally and find the help you need to continue your studies.
The platform was developed by young Osvaldo Maria, Frenque Sitoe, Amarildo Come and Celso Maxlhaeie, last year. Assisted by MozDevz, the team is developing a mobile version of the App; and very soon the admission examination centers can use the page to promote services.
Is it interesting to have such a platform in Angola?
Angola currently has 28 public higher education institutions, divided by 7 regions, and it would be helpful if candidates for the admission examination could count on a platform of assistance in examinations for admission to these institutions.