The MenosFios team is at MWC 2019 in Barcelona with the support of CABLE TV e Kambarico.
---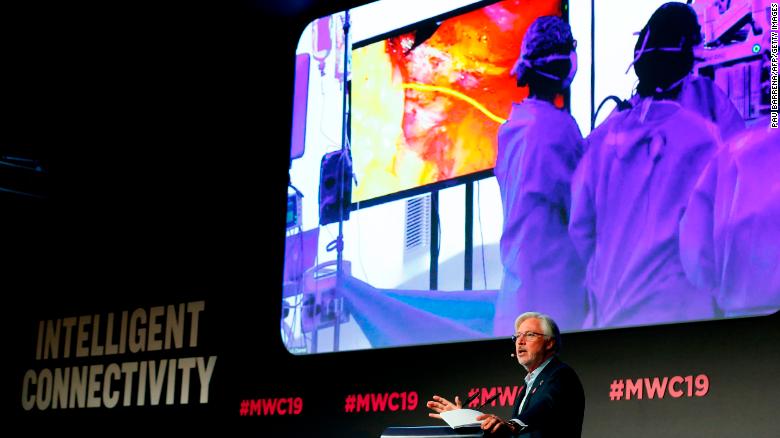 On 27 in February, the MWC 2019 organization gave another example of the focus of the event: smart connectivity. A team of doctors at Hospital Clinic Barcelona began removing a cancerous tumor from a patient's colon and the surgeon who supervised the procedure was more than five kilometers away on the Mobile World Congress stage.
In front of a packed auditorium in the Mobile World Congress, at Fira Gran Via in Barcelona, ​​the head of the hospital's gastrointestinal surgery unit used 5G technology to direct the operation via a live video link.
"If you cut these nerves, the patient will probably have urinary problems, sexual problems, many things"Said the Dr. Antonio Maria de Lacy to an enthusiastic audience at the event of the mobile technology industry.
The hospital said it was the first time doctors used an 5G connection to communicate during surgery. Dr. De Lacy was not performing the surgery alone, but he was able to provide advice and instant guidance. The doctor said providing real-time help was only possible with a super-fast 5G connection.
5G can be 100 times faster than 4G, and mobile networks have the potential to drive standalone cars, virtual reality, smart cities and networked robots. Health is another area with great potential.
SAccording to the doctor, around 143 million surgeries worldwide do not happen every year because there are not enough surgeons specialists. Technology can help reduce this number.
Surgeon Romina Pena, who helped perform the surgery at the hospital, said that Dr. Lacy's follow-up throughout the procedure was critical.
"Regardless of the level of expertise of any surgeon, guidance is always welcome", she said.
Another proof of concept of the application of 5G networks in telemedicine.