The Portuguese presidency of the Council of the European Union (EU) inaugurates on Tuesday (02/06), in Sines, the submarine optical cable EllaLink, which links Europe to South America and which will be "essential" for the digital interconnection of the continents.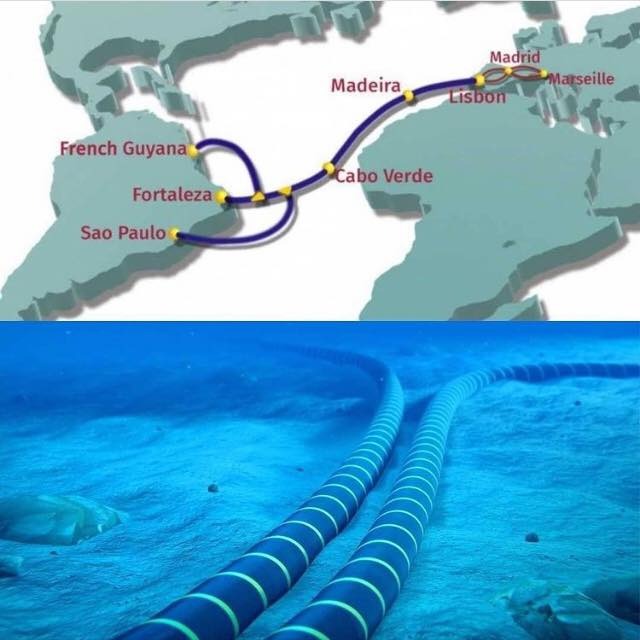 With more than 6 kilometers of optical fiber, the new technology will provide a structure capable of supporting the volume of data generated by 5G networks and will speed up the direct exchange of information between South America and Europe. Currently, information leaving Brazil must first pass through the United States.
EllaLink, which constitutes the first direct high-speed link by submarine cable between Europe and South America, is considered by the Portuguese presidency "an essential infrastructure for digital interconnection and data transmission between the two continents".
The new structure will provide data traffic of 72 Terabits per second and latency (time between command and response) of 60 milliseconds. The contract for using the cable will last for 25 years. The installation of the cables is part of the Bella program – European and Latin American research and education network.
According to a note released by the Brazilian Ministry of Science, Technology and Innovation, the company Ellalink, owner and operator of fiber services, invested around 150 million euros, while the European Commission contributed around 25 million euros. For Brazil, the cable installation process cost around 8,9 million euros.
The equipment should connect Fortaleza, in Brazil, with Sines, in Portugal, with passages still through French Guiana, Madeira Island, Canary Islands and Cape Verde. One of the main advantages of the cable, pointed out by the Ministry of Science, Technology and Innovations of Brazil, is the fact that the information does not need to go through the United States to reach Europe, as is currently the case with most transmissions.