Meet.Us () is an event created by programmers for programmers to unite, bring Angolan programmers together to share knowledge and experiences. All Programmers / Developers, IT Pros or technology enthusiasts are invited.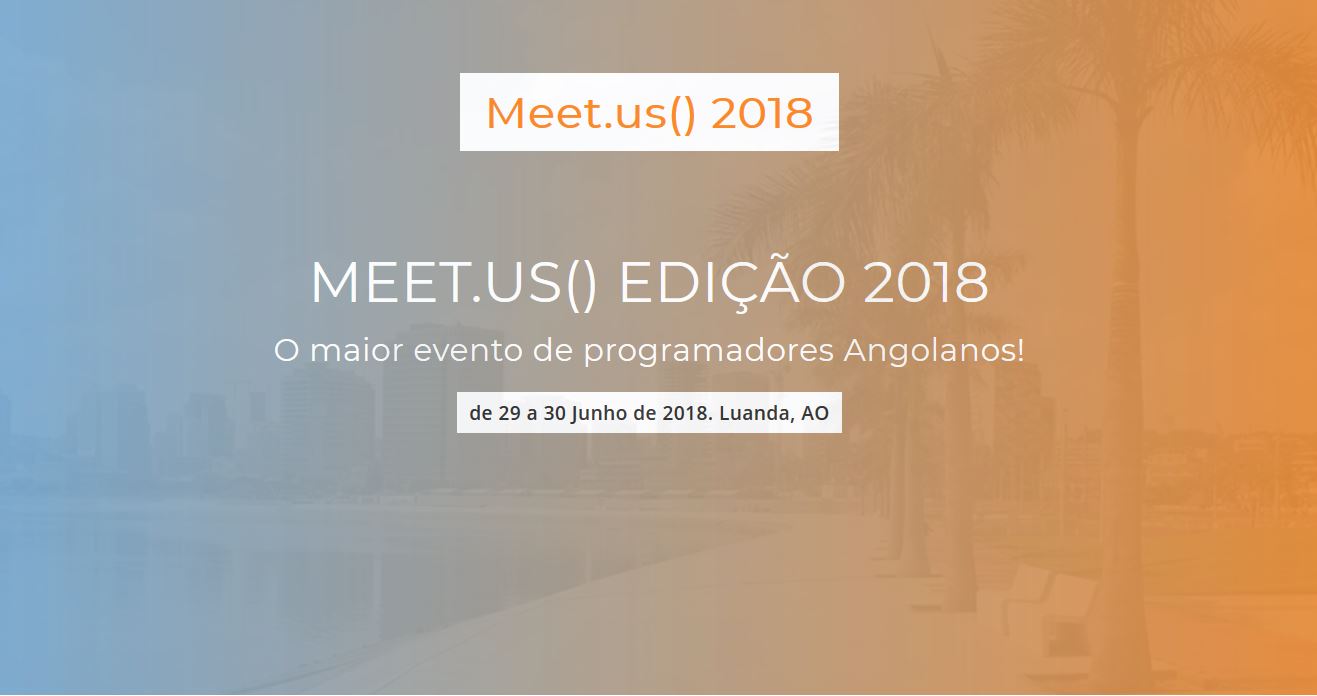 Date of event
The event is spread over two days with varied themes
1 day program
08:30 - Registration / Registration

09:30 - PHP - New features and good practices. Per Sousa Gaspar

10:20 - The importance of knowing where you are and where you are going as a software developer. Per Matias da Graça Tomás

11:10 - The current object-oriented paradigm. Per Augusto Manuel Bilabila

12:00 - Progressive Web App (PWA) By Manuel Cabanga

12:45 - 13:25 Coffee-break / Networking

13:30 - Systematic review and text mining using R. Per Randy Quindai

14:20 - Design Patterns! Why learn? Per Eleandro Duzentos

15:10 - AM Cloud Softwares. Per Arminstrongue Huambo

16: 30 - Closing
Program for the 2 day
08:30 - Registration / Registration

09:30 - The advantages of using the App inventor when creating Android applications. Per João Cassule Panzo

10:20 - IA - Recommendation System. Per Célio Garcia

11:10 - How to be a developer for Startups. Per Doriel da Fonseca

12:00 - 12:55 - Coffee-break / Networking

13:00 - Operating Systems (projects and implementation). Per Nelson Sapalo da Silva Cole

13:50 - Unit tests - how they made me a Master in PHP in 6 months. Per Eleandro Duzentos

14:40 - Machine Learning. Per Randy Quindai

15:30 - CLOSING
Event's place
Instituto Superior de Angola - ISA, Estrada da Pedreira, 17 Quarter of September, Vidrul Zone, Cacuaco, Luanda.
Registration
Admission is free, but registration is required to access the event. Registration must be done on the event's official website. Follow Link.