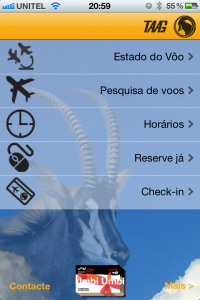 Well, if there is one thing I have to praise recently, it is the TAAG (State airline) answering service. And I don't say the counters, that forget, but rather the "new" ticketing and ticketing service made in partnership with Ucall. But now the Angolan aviation company has surprised me again with its new application available on the App Store and… unfortunately it does not yet exist for devices Android. Well, I was surprised to install and open the application.
The first time we open the app we hear an incoming sound, it looks like everything is working fine. The first page gives you access to the main menus, the State of Flight, Flight search, Timetables, Book now and Move-in.
The first 3 menus run relatively well inside the app, but the information presented is quite limited and when we want to go ahead, ready, there is the part that the lesser ones did not like. The application actually opens an internet page within the application and connects to TAAG page and the last two menus, Book now and Check-in, is worse. The search comes out clearly and blatantly from the app and goes directly to the TAAG page.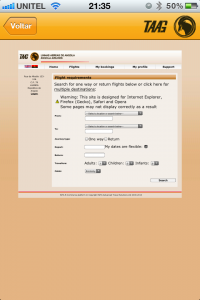 In the "More>" button in the lower right corner of the home page, we can go to another page with 5 more menus, the Baggage claim and the Satisfaction Survey that has the same destination, the TAAG website, which is sad. The TAAG.com menu exits the application and opens Safari.
The last two menus, About Angola and About TAAG, give an error and immediately close the application, which is frustrating.
In summary, poor performance, application very empty. I believe that when a company launches an application the goal is to make our lives easier, if we create an application that redirects us to a web page, what is the purpose?