Automating tasks is fantastic, and the less laborious it is, the better. The Windows shutdown process can also be automated, so your computer will no longer require your intervention to shut down after you turn on this feature.
This functionality can be very useful for those who leave the computer on all night to finish a giant download, or for those who left their little brother playing on the PC and need to make sure he turns off the game at x or y time.
1 METHOD FOR SETTING THE CLOSURE IN WINDOWS 8
1 - Access the metro interface of windows 8 and look for "schedule" or "Schedule tasks" in the settings and execute it.

2 - Next, a window similar to the illustration below will open, select "Action" in the toolbar and then choose the option "create task".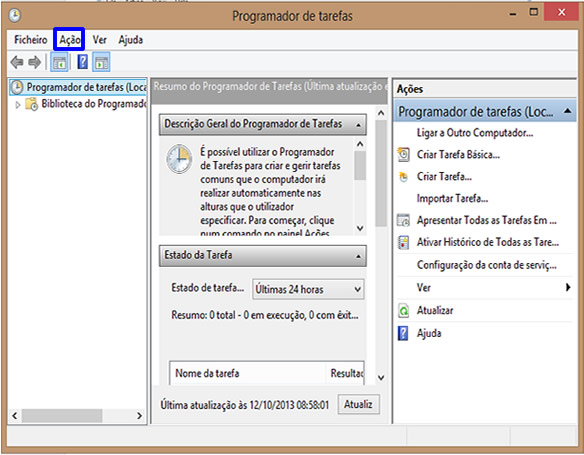 3 - Name the task and then click on "Triggers"

4 - In Triggers you will define the moment when your task will be executed, the number of times, etc. Select only if you want the task to be executed once and then set the start date and time and at the end click "OK".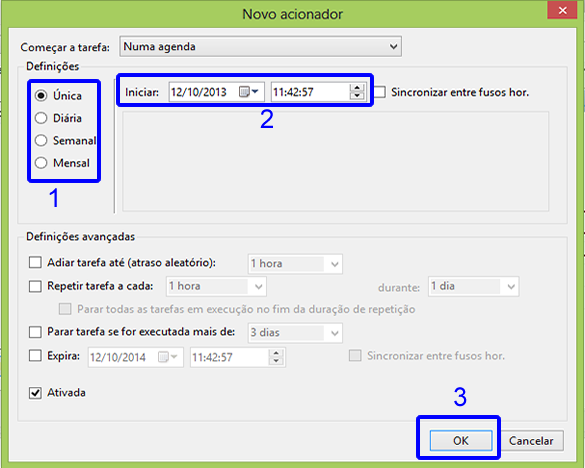 5 - After clicking "OK" you will be redirected to the "Create task" window that will present the trigger already created. Pay attention to the next step, the task has already been created and the moment of execution too, but the action of this task remains to be defined, so for that click on "Actions" and select "new" to create a new action.

6 - In the window for creating the new action there are 3 very important options for closing windows. First, the windows shutdown does not happen by magic, there is a small program responsible for this, so for this reason the action of this task will be to start a program. Second, we need to define the location of this program, it is usually in the folder " C: WindowsSystem32shutdown.exe ". Thirdly, the arguments arise, although they appear optional in parentheses, they are necessary: ​​" / s / f ". Then click "OK" to exit this window and click "OK" again. Your task has been created and scheduled.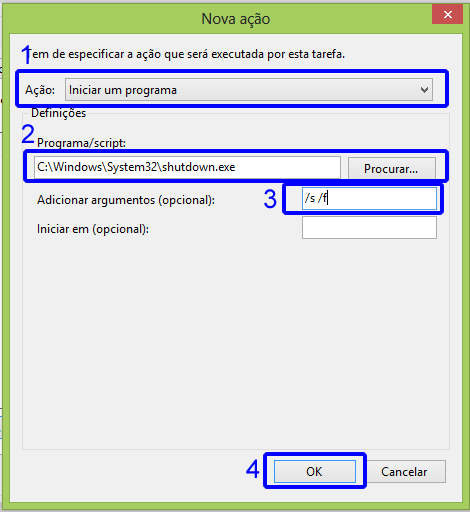 2 METHOD FOR SETTING THE CLOSURE IN WINDOWS 8
Unlike the first method that involves a series of steps until you can schedule the shutdown of windows in this second, the procedures are summarized in two steps:
1 - Open the command line or cmd through the windows 8 program search bar

2 - Type the following command: shutdown -s -t 3600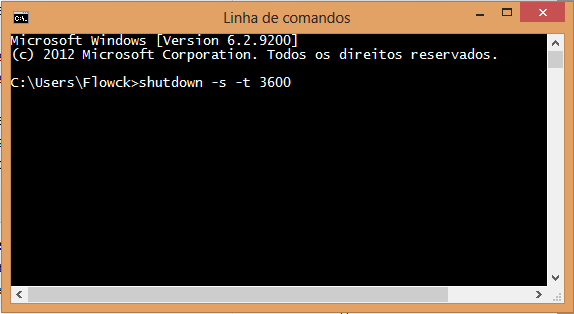 Simple, fast and practical. This thanks to the command shutdown, note that the 3600 number are seconds that equals the 1 time, you can set any value but keep in mind that windows will recognize as seconds.
PS: This method is also valid for previous versions of Windows ...