Unitel announced the 2nd Edition of the launch of the scholarships program Women for the future 2020, during a press conference held at the premises of the Luanda Mediatheque.
The program was created last year and has already offered 50 internal scholarships during the 1st edition of the academic year 2019.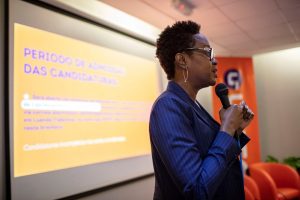 During an exclusive interview in which the DoisFios team followed, Eunice de Carvalho, UNITEL's Deputy Director-General for Corporate Affairs, said that the program's objective was to Women for the future it is to promote gender equality in the areas of information and communication technologies, and to increase the number of women working in the ICT sector.
The Program will make available, for academic year 2020, more than 50 internal scholarships for women up to 25 years of age, who will enroll or are already attending higher education in the areas of outstanding training:
Electrical and Telecommunications Engineering
Computer Engineering
Telecomunication engeneering
Electromechanical Engineering
Computer science
Network Engineering
Management Informatics
Mechatronics Engineering
Electronic Engineering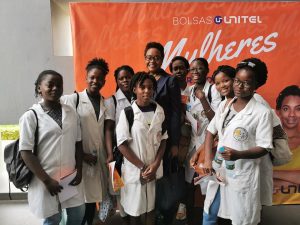 The scholarships will be for attendance in higher education intuitions legally recognized by the Ministry of Higher Education, Science, Technology and Innovation, the same, will pay for enrollments, tuition fees, and books, giving the scholarship a value for general expenses.
After finishing the studies, the scholarship holders who have a good performance (Final average of minimum 16 values) will enter the TOP STUDENTS program of the company (6 months of internship with internship allowance). Students with a pass rate of 75% or above will receive a one-year employment contract.
Eunice de Carvalho, also said that with this action UNITEL intends to give women more access to a university of national excellence and contribute to the improvement of the skills of Angolan women in the field of ICTs.