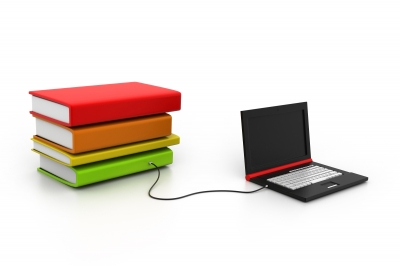 Around the world the Distance learning it has grown at a very fast pace, even in countries of the so-called "third world" such as Brazil, where today 1 in 73 Brazilians study at a distance. Due to the advances in ICT's most of the largest and most recognized universities now offer undergraduate, graduate and even doctoral courses online.
One of the advantages of this new form of teaching is the possibility that the trainee has to study where and when to find more comfortable, being able to be in any part of the world needing only to be connected to the Internet. So, this education system soon arrived in Angola and in this article you will find three online universities that I considered to be the best that work in Angola.
UNIVERSIDADE CATÓLICA DE BRASÍLIA - UCB VIRTUAL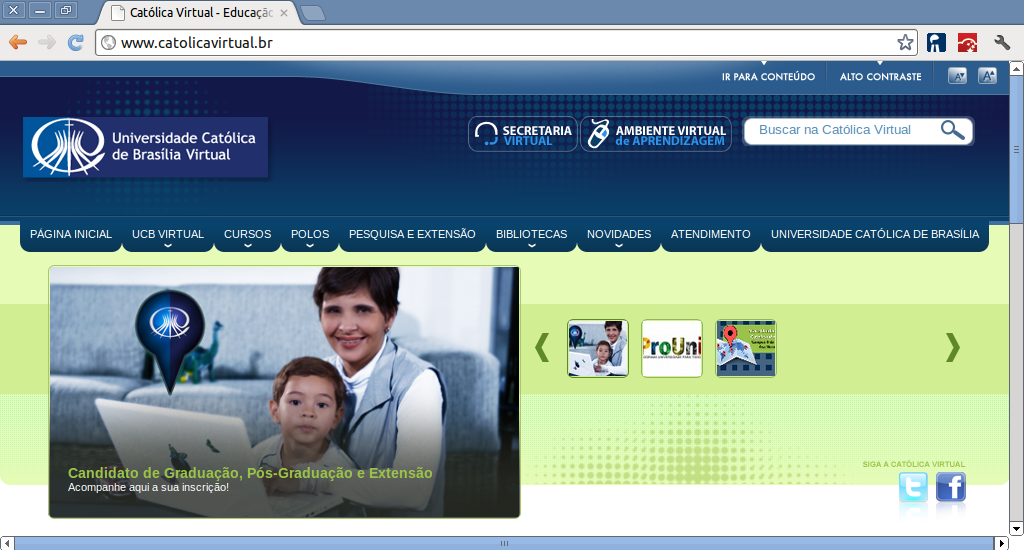 UCB is the sixth best private higher education institution in Brazil, and 2004 created UCB - Virtual as the branch in charge of the Distance learning. In 2006, he established a partnership with the Don Bosco Salesian College in Angola, UCB - Virtual already has two on-site support centers in Luanda and Dondo.
Courses
You will have the freedom to choose the course that best fits you, since UCB - Virtual has a very varied offer, which ranges from Administration, HR Management, Tourism, Education and even Philosophy! As the Less wires is a blog about technology I will highlight here the courses of Technology in Analysis and Development of Systems, Management of Information Technology and Technology in Information Security. You like it, right? And there's more! These courses can be done in two and a half years, that is, in 5 only semesters.
Propinas
As for tuition fees, UCB - Virtual is the cheapest of the three universities I present in this article. For the academic year 2012, the monthly fee is 210 USD per month, an acceptable price in relation to those practiced by on-campus universities.
Location
The offices of the UCB - Virtual in Luanda are located at the Instituto Superior Dom Bosco, in the Palanca neighborhood, Sanatório street near the Catholic University of Angola. And in the province of Kwanza Norte at the Don Bosco Vocational Training Center, Dondo's mini-center.
FACULTY AIEC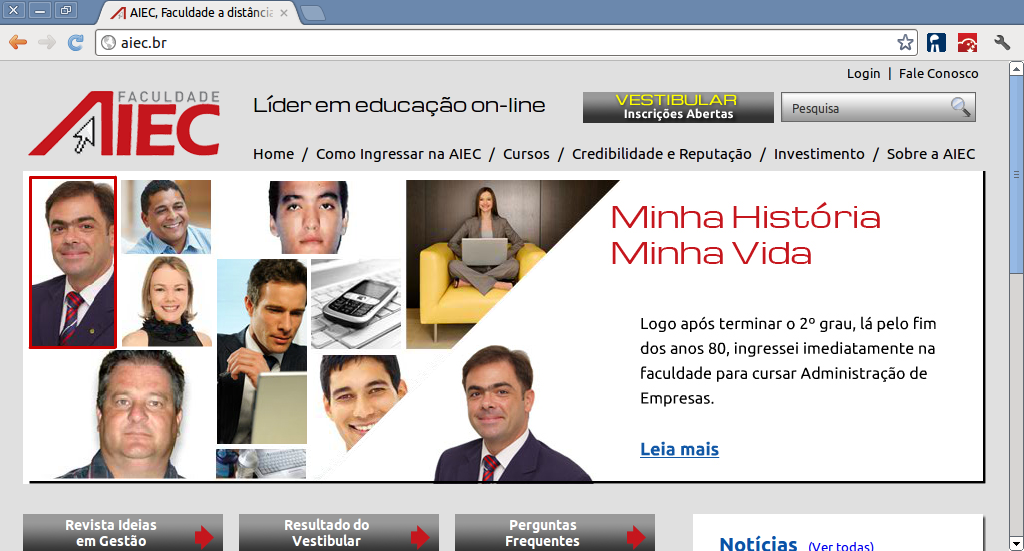 A AIEC is the best known among Angolans. According to information I have collected on your site, the International Association for Continuing Education (AIEC) is the main online program for Administration in Brazil, and one of the best in the world. With the most competent management professors and an exclusive distance learning methodology.
What makes this faculty so special is that it offers only one undergraduate degree: Administration. For this reason they have become "experts" in the field, their teaching system is ISO 9001 certified - International Quality Certification.
Courses
As I mentioned above, AIEC offers only one undergraduate degree, but it also has postgraduate MBA courses in Fundraising and MBA in Finance.
Propinas
The monthly fee at AIEC is a bit more "pulled" than the first, the tuition fee in the 2012 school year is 246,40 USD (24.600,00 AKZ). A price that is already approaching the tuition fees of the cheapest universities in Luanda.
Location
The AIEC support center in Luanda is located in the premises of the Instituto Superior Politécnico Alvorecer da Juventude - ISPAJ, in the Nova Vida Project.
AMERICAN WORLD UNIVERSITY - AWU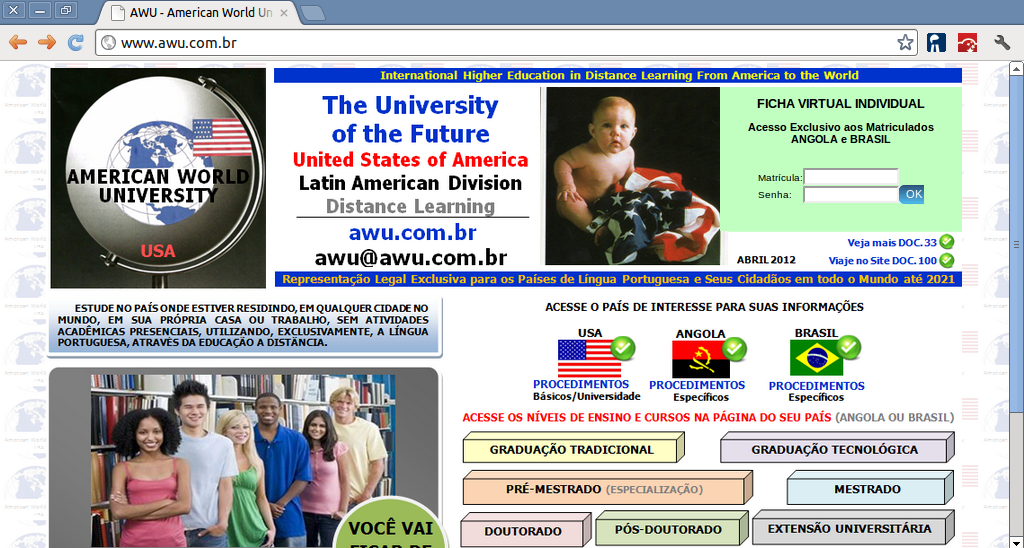 A AWU is an American university of international scope, created a Latin American division based in Brazil responsible for the Portuguese speaking countries. At 2008, AWU signed a cooperation agreement with Agostinho Neto University for joint distance and distance education programs for Angolans, Brazilians and other Portuguese-speaking citizens.
Both UCB - Virtual and AIEC are allowed to act in Angola, but AWU went further because of this agreement, the certificates passed by this university are automatically recognized by UAN, this does not mean that other universities are not but the AWU process is simpler.
Courses
This is the university that offers the largest number of courses, undergraduate, postgraduate (specialization), masters, doctorate, postdoctoral and university extension. To view the complete list of courses visit the AWU
Propinas
The monthly tuition fee at AWU is the most expensive of all presented here, the monthly cost of the undergraduate courses for 2012 is 280 USD, costing the same as a face-to-face university in Luanda.
Location
AWU's offices in Luanda are located in Maianga, Marien Nguabi street, No.912 - Terreo and in Viana, at Av. Deolinda Rodrigues, Vila Nova.
CONCLUSION
Distance Learning is now an option to consider, especially for professionals who no longer have time to be in a classroom. The advantages are numerous, nothing better than studying at your own pace in the comfort of your home or anywhere else you prefer, as well as being a good opportunity to upgrade your curriculum without having to interrupt your job, as is the case with ICT professionals who are always on "projects".
And you, reader? What do you think of Distance Learning? Do you know other online universities that operate in Angola? Write a comment below providing your opinion, hint, suggestion or telling your own experience.