O 2020 is a challenging year for technology companies. The smartphone market was one of those affected during the current year. In fact, the whole world is still facing new challenges and it looks like the worst may be yet to come.
In the first months when the pandemic (COVID-19:) emerged smartphone sales fell dramatically, the last few months have brought some hope to manufacturers, Samsung, Huawei and Xiaomi are now part of the podium of the companies that sold the most smartphones in the last quarter, with the giant Apple having fallen.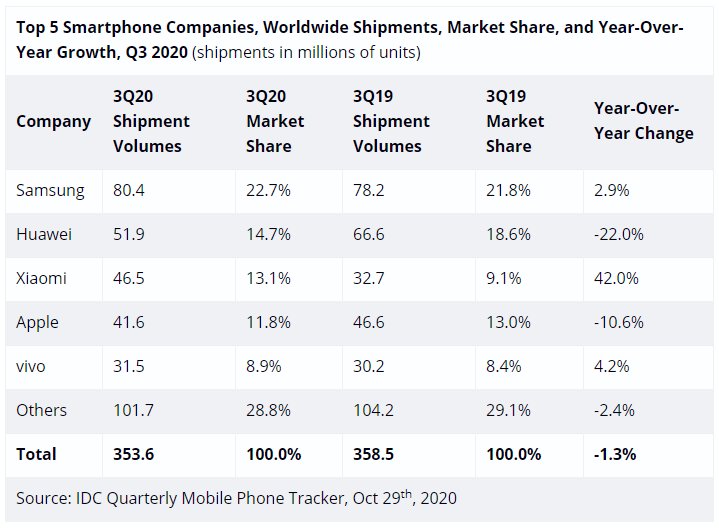 Samsung is back on top as the world's largest smartphone supplier a quarter after losing its place to Huawei, according to reports from IDC , Counterpoint e Canalys. The news comes at a time when Samsung released its highest quarterly revenue numbers of all time, which the company said was helped by an increase in demand for smartphones.
Huawei became the number one supplier for the first time, three months ago , benefiting from strong sales in China while much of the rest of the world operated under restricted sales conditions due to the COVID-19 pandemic. But Huawei shipments fell 7% in the quarter and 24% year-on-year, according to Counterpoint, while Samsung's shipments increased 47% in the last quarter.
Xiaomi managed to regain third place for the first time in several years, surpassing Apple for the first time with an annual growth of 46%. Apple shipments fell 7% year-on-year in the July-September quarter, undoubtedly affected by the fact that their new iPhones this year have fallen until their October and November launch dates.